China National Garment Conference (2012) was held recently in Beijing. With the theme of "Innovation: Endogenous Power and New Advantage", the Conference focused on restructuring and other issues necessarily faced in the formation and development of Chinese garment industry, to deeply probe intrinsic structure of the garment industry, clear off new developmental trends in the future and prospect developmental future of the industry. Sponsored by China National Garment Association, the Conference was the largest annual trade conference and the important annual communication, discussion and cooperative development event in Chinese garment industry. Besides main forum, the sponsor specially arranged eight parallel sessions with different themes and invited many entrepreneurs and scholars in the same field to jointly discuss industrial problems and share experiences. As an outstanding representative in international marketing of Chinese men's garment, Raidy Boer was invited to the China National Garment Conference and communicated and exchanged ideas with Esquel Group and Li & Fung Company on the parallel session with the theme of "Value: Integration and Benefit Chain", mainly focusing on resource integration under international marketing strategy. On the session, various ideas were exchanged and new supply chain value was mutually discussed.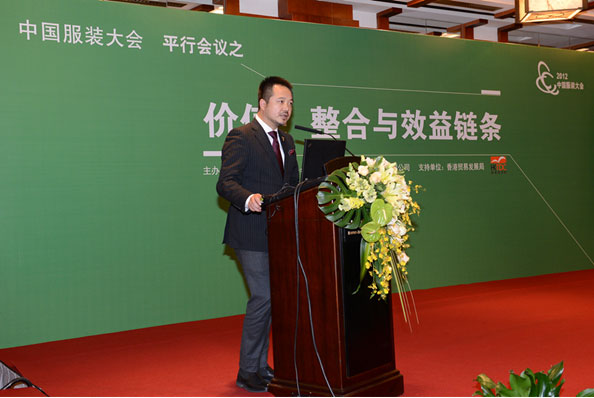 Mr. Lu Shan, Vice President of Raidy Boer Fashion Garment Co., Ltd., is delivering a speach at China National Garment Conference (2012).
Made in China was not as lucrative as before.
"The most important source for the success of a garment product is brand. As we know, Made in China is famous not for the brand but for processing. However, a cruel fact we have to face is that Made in China is not as shining as before", said straightforward by Mr. Lu Shan, Vice President of Raidy Boer Fashion Garment Co., Ltd., in the very beginning of his address. He pointed out that, the advantage of Made in China has faded as large amounts of international brands' OEMs were relocated outside China. "The labor cost, staff cost and RMB exchange rate account for the more difficult export order. At present, among the garment manufacturing countries for America, China is facing a decreasing share, and instead, Turkey, Bengal, India, and Mexico are embracing an increasing share."
Chinese garment industry was confronted with such a huge challenge. Although many enterprises had been aware that the brand building was the trump card for standing out in the garment industry, another challenge they have to face was that the international brand was imposing pressures for Chinese brand. Lu Shan said that the international brand, by relying on the test of time and market, had formed a certain brand influence and a comprehensive, sound and interactive situation in aspects of brand, product, customer, channel, propaganda, etc., to firmly control the high-end market, and had pressurized and hindered the development of domestic brands by means of establishing new brands and sub-brands, as well as the brand M & A, and by virtue of its own management ability for market, propaganda and supply chain. How did Raidy Boer withstand such pressures and form competitive advantages?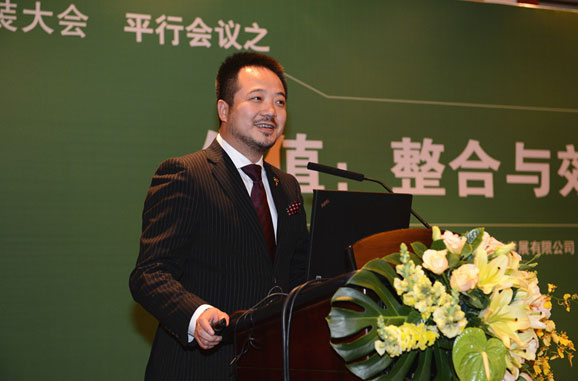 Mr. Lu Shan pointed out that Chinese garment brand is facing harsh challenges from various angles.
Building China's international brand by internal and external integration
"Raidy Boer Fashion Garment Co., Ltd. is engaged in creating an internationalized multi-brand operator and has established three distinctive brands. By developing Raidy Boer, the proprietary brand, acquiring GHILARO and surrogating Ferrante, Raidy Boer Fashion Garment Co., Ltd has conducted an internationalized integration for the design resource, supply chain and channel resource" said Lu Shan. He also expressed that Raidy Boer Enterprise interpreted the genuine Italian style and top-class garment material via these three brands and fully covered all advantageous consumer groups with the fashion trend-oriented design. With the resource integration for global supply chain, three challenges were converted into three opportunities. The procurement strategy for its global supply chain mainly consisted of three parts: As for the basic style with a lower requirement for the manufacturing technology, lower-cost suppliers were selected, and in the future, the manufacturing place might be positioned in the more advantageous Southeast Asian market; as for the brand's high-end style, it was vital to persist in cooperating with Italian high-quality cloth and leather suppliers and manufactures to produce high-quality and high-premium products; and in the future, it would be necessary to explore and pay more attention to suppliers that had processing experience for famous international brands, so as to seek for the cooperation in due time.
Moreover, Lu Shan shared a successful example of the brand. As for the leather products, Raidy Boer enjoyed advantageous supply chain resources in Italy. The advantageous raw leather material, design and production resource from the southern Italy had made products competitive in the aspects of quality and price, thus indicating that only the high-quality supply chain could bring the competitive products. Domestic garment brands expected that domestic OEMs could adjust their cooperative patterns with the original famous international brands, develop the product design and creation and develop a new cooperative model meeting the demand of domestic garment brands based on the original bulk order pattern.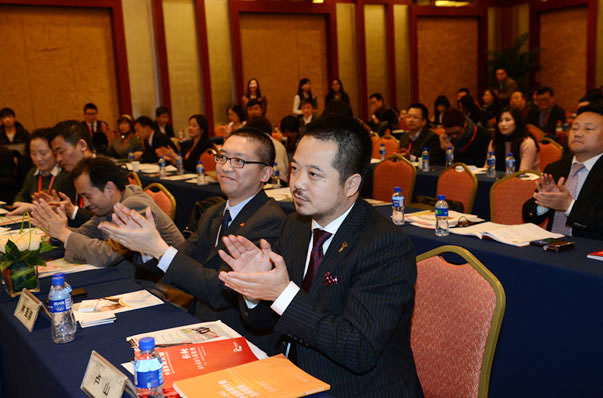 Raidy Boer will make more improvement by learning more from the conclusion drawn from the industrial problem discussion at the China National Apparel Conference.
A long journey to develop supply chain
Besides the internalized brand operation of Raidy Boer Enterprise, Esquel Group, engaged in deep exploring the vertical integrated management for more than 30 years, and Li & Fung Company, specialized in supplying service for customers, also shared their opinions in this subject. Che Kedao, Vice Chairman and CEO of Esquel Group, proposed 5 features of competitiveness: integration, cost, creation, environmental protection and social responsibility, and specifically explained how to create new values for customers with a practical project. Lin Zhiying, Vice President of Li & Fung Company regarded that the core of a comprehensive supply chain management was rapid reaction and global arrangement for the product design, procurement, logistics, distribution & wholesale, information and marketing management.
Nowadays, the industrial upgrading of Chinese garment industry faces numerous challenges and opportunities. In the link of the supply chain, Raidy Boer Enterprise not only analyzes the current situation of the entire garment industry, but also, in combination of its own development direction, provides a practical strategy on the value chain integration for the fellow traders, obtaining the unanimous acceptance of China National Garment Association and other participating enterprises. Raidy Boer will also continue to learn from the conclusion drawn from the open discussions about the culture, propaganda, talent, orientation, channel, efficiency, service and other issues at 2012 China National Apparel Conference, to show the new momentum of Chinese men's garment.