Beijing, March 26, 2013 - China International Clothing & Accessories Fair 2013 (CHIC2013) was held as scheduled in the China International Exhibition Center in Beijing. After 21 years' development, CHIC has attracted more and more excellent brands, and also realized increasingly that Chinese customers are not satisfied with the stereotyped wears manufactured by machines in batches. Instead, the advanced customized wears featured by "hand-made, individualistic and high-quality" attract more and more attention. All the people within this industry have understood that the era of advanced customized menswear is approaching quietly in China.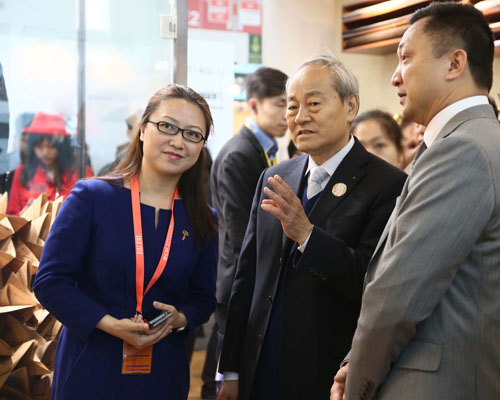 Figure: Mr. Du Yuzhou (middle), Honorary Chairman of China National Textile and Apparel Council, and Mr. Wang Zhuo (right), Secretary General of China National Garment Association, are delivering speeches in the advanced customized menswear exhibition area of Raidy Boer


As China's excellent high-end fashion brand, Raidy Boer makes its appearance in the "advanced customization" area of CHIC2013 menswear pavilion. Despite its first appearance in the advanced customized menswear show of CHIC, Raidy Boer demonstrates its strong capabilities in the field of advanced customization to the customers of advanced menswear and it peers.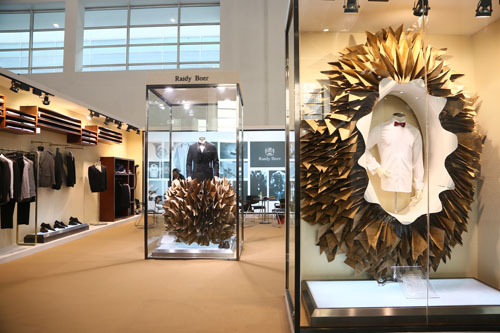 Figure: Raidy Boer Fashion Garment Co., Ltd. is displaying its advanced customized menswear in CHIC2013

Advanced customized menswear becomes the favorite in the new era
Since its first presence in the CHIC 2005, Raidy Boer has been a frequent exhibitor of CHIC. Different from its previous participations in the CHIC menswear show, Raidy Boer pays more attention to a key direction in the fashion industry in 2013, that is, advanced customized menswear. As the economy grows, China's fashion market is also becoming mature. The initial functional pursuit for keeping warm has developed into the pursuit of uniqueness and personality. Such a shift is developing into a trend with the high-end customers increasing, and particularly, the advanced customized menswear is becoming the token of status of high-ranking personnel.

Figure: Liu Changming (right), President of Raidy Boer Fashion Garment Co., Ltd., and Wang Yongping (left), General Manager of the Customization Business Division, are talking freely about the development trend of advanced customization

Raidy Boer shows keen sight on this trend, maintaining that advanced customization will definitely has an expanding and intensifying market. Raidy Boer hopes to show its capability in this field by exhibiting its brand in the CHIC2013 advanced customized menswear show, and to exchange with the peers by learning the level of domestic menswear customization so as to achieve intensive exchanges and cooperation with the enterprises which have resources related to advanced customization.

Figure: Lu Shan (left), Vice President of Raidy Boer Fashion Garment Co., Ltd., and Wang Yongping, General Manager of the Customization Business Division, are talking about the development trend of advanced customized menswear

Inspiration "movement" manifests the capability in advanced customization
In the E1 pavilion of CHIC2013, the booth of Raidy Boer entertains you not only visually, but also aurally. The booth with "movement" as the theme is inspired by the large-scale performance of symphony. Symphony coincides with advanced customized fashion in terms of the status because it is a music representation with the most complicated structure and the highest value for appreciation. At the center of the booth, an advanced customized suit which is elegant and delicate gets out from the shell in the 360-degree transparent glass showcase. The superior materials, refined craft and fitted tailoring make the suit fascinating like a fine artwork seen from any angle. Every advanced customized suit seems like performing a graceful music with the interlaced display of music notations and marking papers, and Raidy Boer team is like a perfect symphony orchestra which composes a marvelous movement of advanced customization for CHIC2013.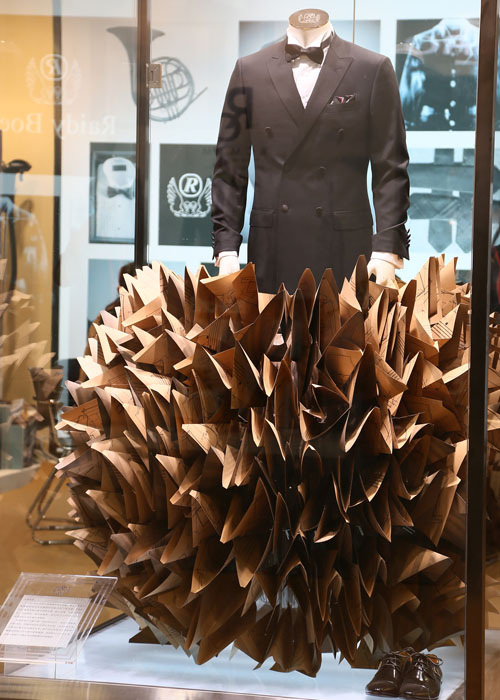 Figure: The advanced customized suit of Raidy Boer which conveys the soul of fashion gets out from the shell.

Integration of quality resources lays foundation for advanced customization
Raidy Boer always regards Italy as the source of inspiration for its brand. Its business formal and smart casual have always been the styles known and favored by the customers. The brand has a powerful team with designers, pattern designers and suppliers of advanced materials. Many of the team members are experienced in design and operation from Italy who not only act as the senior consultants of Raidy Boer, but also have field experience of many well-known foreign brands, so they have rich experience in advanced customization. Apart from an excellent team, Raidy Boer has integrated the resources of supply chain in its 13 years' development, controlling the supply chain of quality materials, and moreover, holding irreproducible resource advantage in exploring overseas quality materials. It is known that the quality of the materials is another important link in advanced customization apart from excellent designers. With its customer resources of high quality that have been accumulated for many years, Raidy Boer is sure to develop the advanced customized menswear to a new height in the aspects of design, raw materials, manufacturing and terminal service.

Figure: Lu Shan (left), Vice President of Raidy Boer Fashion Garment Co., Ltd., is introducing the characteristics of advanced customized products to the guests.