Raidy Boer Leather Products for Spring and Summer 2013 Brought an Environment-friendly Fashion Trend
Time: 2013-05-31 19:33:20
Environment-friendly trend of the fashion circle has never ceased but become more and more forceful, and "More Environment-friendly, More Fashionable" has been commonly recognized by all vogue talents. On previous Raidy Boer Spring & Summer New Products Release Meeting (2013), the environment-friendly concept penetrated into the garment design of three brands. Recently, on Raidy Boer Spring & Summer Leather Products Release Meeting (2013), held in the headquarter of Raidy Boer Fashion Garment Co., Ltd., the environment-friendly concept went deep into the decorative materials and attracted all dealers by outstanding design and materials.
The Spring & Summer Leather Products Release Meeting (2013) mainly covered two brands: Raidy Boer and GHILARO of Raidy Boer Company. Leather product design of two brands respectively fits new products for Spring and Summer 2013: Raidy Boer leather products continuously stemmed from four Italian famous tourist cities, saying Freeport, Sardinia, Siena and Tuscany and rendered a formal or leisure dress in details of coloring and materials; however, GHILARO followed the theme of "Marine Wonder", to find a base for environment-friendly concept in the name of the ocean.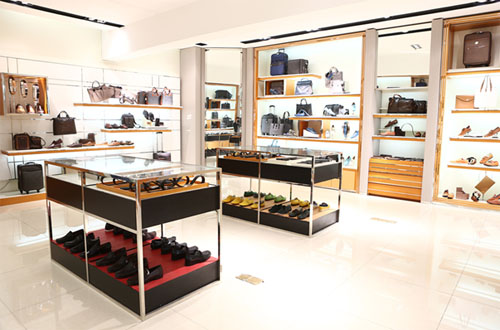 Raidy Boer Spring & Autumn Leather Products Show (2013) continued the environment-friendly revolution of the fashion industry with natural raw materials.



Environment-friendly materials supported the design.
While pursuing fashionable arrangement of product appearances, Raidy Boer always upgraded the intrinsic content of the products. So, the enterprise actively responded to the environment-friendly promotion of the state in selecting raw materials and used environment-friendly materials in all leather products for spring and summer of 2013, including most of environment-friendly interior lining. Ettore Veronese, an Italian Designer, always kept improve materials used, which was the soul of Raidy Boer products. He believed the environment-friendly and greening principles must be followed while pursuing fashion trend: "Environment-friendly materials do not lower the grade of leather products, but make leather products alive indeed and vitalize a deluxe and environment-friendly product."

Colorful design to convey the dynamic of spring and summer.
In Spring and Summer, various colors are gusty collectively. Raidy Boer clothes for spring and summer 2013 were full of voyage style, town leisure style, grassland style and ocean style, which presented various color reveries, and the leather product series also had various fashionable colors. Seawater blue, lemon yellow and grass green were largely used and respectively applied in leisure leather shoes, straps and bags. Even if the whole dressing was predominantly black, a bright strap or a pair of deluxe shoes was able to drive off all dullness.
The Spring & Summer Leather Products Release Meeting (2013) attracted many agents present in the site. All agents nationwide have affirmed the concept of environment-friendly materials and actively responded to the design this time. One present agent expressed: "As a consumer, I like Raidy Boer's design very much and the designs for 2013 are elaborately made. I think they will certainly make a big splash."